A look through a number of my blogs would give the impression I am none to fond of the ConfigMgr 2012 Application model 🙂
Whilst I accept its positives the negatives are also there for all to see.
Now to the point in hand.
If you are attempting to install an Application which by all accounts appears to be installing but the below error in Software Center displays: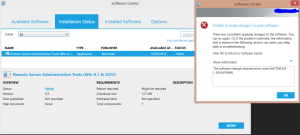 This error essentially is ConfigMgr 2012's way of telling you that although the application installed successfully, it is however unable to validate the detection method successfully resulting in the failure. More evidence is shown in Appenforce.log
To remediate the issue you will need to find a detection method that is acceptable. This mainly affects NON-MSI based products and in my example RSAT for 8.1 and Server 2012 is installed via an MSU so I need to find a better way than my first attempt ( A Registry Key 🙂 )to get this operational.
For this Example I used the Software Distribution path in C:\Windows as my validation but if you imprint your machine after an install this would also be a viable option to pick up the install.